I spent ten minutes dithering over an email, the cursor hovering over the send button. Attached to the email was my final term paper for PA208 – the last requirement I had to pass before my semester was officially over. I mentally ran through my "preflight check". I had proofread twice, checked all my citations,  and converted the Word document into a PDF. It was now or never.
I held my breath and clicked send.
And with that, my first semester as a working graduate student was over.
The relief that washed over me was almost palpable in its intensity. For a few glorious weeks before the second semester began, I was free. Free from late nights hunched over my laptop or a textbook, free from mainlining coffee every morning just so I wouldn't fall asleep at the wheel, free from Saturdays spent cooped up in a tiny classroom when, outside, the blue skies above UP Diliman and the surrounding cafes, restaurants, and bars beckoned.
No longer would my social life be the equivalent of a rotting tree stump; the water inside the rim of a discarded rubber tire; the dust on musty old evidence boxes in the storage room of a police precinct; the law books moldering on Mocha Uson's shelves; and other such things that nobody uses and fall into disuse and disrepair. No longer would I miss out on impromptu dinners and hangouts. No longer would I miss out on coffee dates hosted by my blogger friends!
(A bunch of non-famous Filipino bloggers banded together to form a group we like to call The Fault in Our Blogs, or TFIOB. A couple weeks ago some of them met up at the Starbucks in Megamall to chill, hang out, and get to know each other. I couldn't make it because I had class, and the FOMO. Was. REAL. Anyway, because I'm such a good friend, here are all their individualpostsaboutthatmeetup. TFIOB repping!)
So here I am, officially on vacation. And being on vacation means getting back to business with this blog. My last entry was over a month ago – which, by the way, I've felt so bad about. I'm so out of the loop with my friends' blog entries, the goings-on in my mutuals' lives, tags and challengers, and the other minutiae that a blogger keeps up with. Like I said, the FOMO was real.
But after a semester of doing the almost-impossible – that is, juggling full-time work and a master's degree – I'm back and ready to rumble, and with a handful of life lessons under my belt, to boot.
The Boy Scouts had it right.
Be ready for anything. Be ready for nice professors. Be ready for some really mean-ass professors. Be ready for your classmates to be cool, nice people who you'll really get along with. Be ready for them to be absolute stinkers. Plan out what school supplies you'll need. As soon as you're enrolled, work out a study schedule plotted around your working hours. Have a game plan for everything, and I do mean everything. In this situation, preparedness is the better part of valour (sorry, Shakespeare).
Know what you need to do.
I'm a firm believer in the phrase "study smart, not hard". Figure out what material is actually relevant to the course. Is this professor a strictly textbook word-for-word memorization guy or will knowing the gist of the lesson suffice? Learn what study methods work for you – whether it's taking notes, highlighting, or recording lectures – and then use those methods to the exclusion of all else. Don't try to do everything. It won't help.
Don't overwork yourself.
Rest is important. I learned that the hard way back in November when I got really sick after two solid weeks of getting only about two to three hours of sleep a night. Schedule some "me time". Watch some Netflix (I just recently discovered Brooklyn Nine-Nine and I am hoo-o-o-o-oked). Eat something sweet. Hang out at a friend's place. Read a book. Take a nap. Your body will thank you.
Time management is EVERYTHING.
Use your free time (outside of rest hours, of course – those are sacred) wisely. At work, we sometimes get a few hours in the day where we're not doing anything. Rather than dicking around on Facebook, I used that time to do my homework, read the material for my next class, or work on a paper. Essentially, I was getting paid to study. In the immortal words of Jake Peralta: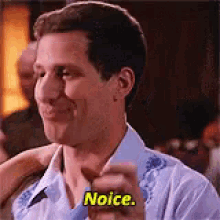 Now that my first semester's over, what's next?
Obviously, I've got quite a bit of catching up to do. I have three books I haven't finished reading, two book reviews to write, and all my friends' blog entries to catch up on. I'm looking forward to it, and I hope you stay tuned!
I'm thinking of starting a whole series documenting my grad school life on this blog. Yes? No? Don't care? Let me know!